Utah Bankruptcy Guy & The Law Office of Douglas Barrett, LLC
Providing Bankruptcy Solutions for Utah County and Surrounding Areas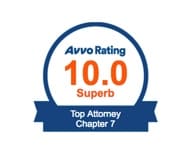 The Law Office of Douglas Barrett LLC. has achieved the coveted highest rating from the prestigious independent attorney rating organization, Avvo.
Schedule a FREE Consultation Now
Set up a FREE consultation to see what sets Douglas Barrett and his Law Firm apart as the bankruptcy firm in Utah County. Find out why everyone calls him "The Bankruptcy Guy" tm.  Discover how he helps people just like you understand their choices when it comes to obtaining a fresh financial start.
WE DO SAME DAY APPOINTMENTS!
Testimonials
Doug is an awesome attorney because he understands what I was going through when I filed my chapter 13 bankruptcy. He has a lot of compassion and is always there for you. After the initial consultation my worries were put to ease.  -Bob (Orem, UT)
Doug is such a knowledgeable attorney that truly does what is right for his clients. I appreciated his honesty and his countless hours he worked on my case. He gave me all my options and allowed me to choose what I wanted to do! I liked that he did not sway me one way or the other. He also has such a great response time to any phone calls or emails! Overall, I would recommend him to anyone who is considering bankruptcy! Doug truly made it the most easiest and pain free process ever! Now I get a fresh new start! Thanks Doug!  -Uilani (Provo,UT)
Doug Barrett you are a good man.  Thank you for helping me and my family. -Jackson (Provo,UT)
"Thank you for everything you've done throughout this process"  -Sasha (Salem, Utah)

Great job!  -Ed (Orem, UT)
Mr. Barrett (Doug) has helped us through all of our past and current paperwork and official bankruptcy meetings. He is a professional who understands the law involved and communicates in an understandable way what we've needed to do in order to prepare for each step of the process. My wife and I highly recommend him as an excellent, trustworthy lawyer.  -Tim(Utah)
You and your staff made the process so easy - THANK YOU!  -Michelle (Orem, UT)
Doug was the most helpful attorney we dealt with in a long time - finally we can sleep at night.  -Steve & Mary (Provo, UT) 
We will recommend your firm to our friends.  -Bill & Karen (Lehi, UT)
Thanks again for the help and advice.  -Dean (Lehi, UT)
Our sincere thanks.  We appreciate it!  -Robert (Orem, UT)
Mail we received was a great help.  -Rebecca (Spanish Fork, UT)
Thank you very much!  -Dave and Lori (Provo, UT)
Thanks again.  P.S. Love the bowties!  -Richard (Price, UT)
I think you did a great job.  Thank you.  -Anna (Springville, UT)
Thank you does not express enough what we feel.  Your service was amazing.  Thanks so much!  -Ashley (Lehi, UT)
Thank you for everything!  -Maria (Orem, UT)
Do not change a thing you are excellent.  Thank you!   -Mandy (Fairview, UT)
These guys are the best!  We did not have a computer or internet but they let us use a conference room and the equipment to take the required bankruptcy classes...we cant thank them enough.    -Mary (Provo, UT)
You guys are great!   -Ann (American Fork, UT)
I was in a financial mess and didn't know where to turn. I looked for help on the internet and contacted several lawyers. Douglas was the first one to get back to me and we set up an appointment to discuss my case. I was an emotional mess due to unfiled taxes and phone calls from everyone I owed money. He was kind and patient and said we could get this taken care of quickly. He referred me to someone for my taxes and helped me take care of that matter as well as the bankruptcy itself. He has always been professional and answered questions as needed. I am so glad he contacted me so quickly. I would highly recommend him to anyone who is having financial difficulties and doesn't know where to turn. He will steer you in the right direction.  -Rob(Lehi, UT)
Douglas Barrett has been chosen, for ten consecutive years, by his peers as one of Utah Business magazine's Utah Legal Elite attorney's in the practice area of Bankruptcy (Utah Business magazine)