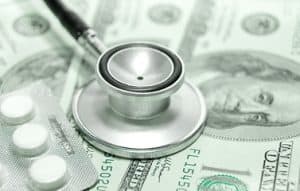 You know when bankruptcy makes sense to you when you won't be able to be able to pay back your debt within 3-5 years.  At this point it can be a good time to consider bankruptcy. This could happen because of a financial catastrophe.  It might be due to medical issues or losing your job. If you can't even afford interest on your loans, declaring bankruptcy might be your best option. Its smart to consider your situation especially if circumstances out of your control are affecting your finances.  Bankruptcy could give you protection from creditors  and a fresh start.  Many people facing medical issues also will face financial issues.
A new study suggests that more than 60 percent of people who go bankrupt are actually capsized by medical bills.  Last year I wrote a blog post on this subject that is still true today – medical debt is a leading cause of bankruptcy in this country.  Here in Utah medical debt is one of the top three reasons people give for needing to file for bankruptcy protection.
The study at Health.com concluded that 62.1 percent of the bankruptcies were medically related because the individuals either had more than $5,000 (or 10 percent of their pretax income) in medical bills, mortgaged their home to pay for medical bills, or lost significant income due to an illness. On average, medically bankrupt families had $17,943 in out-of-pocket expenses, including $26,971 for those who lacked insurance and $17,749 who had insurance at some point.  Overall, three-quarters of the people with a medically-related bankruptcy had health insurance.
As I have pointed out before bankruptcy has become the social safety net each year for nearly 2 million Americans.  When bankruptcy makes sense for you of course depends on your individual circumstances.  Bankruptcy my not be right for you so it is important to seek out an experienced bankruptcy lawyer near you and visit with them about your situation.  Most bankruptcy attorneys provide a no cost consultation that will give you a better understanding if bankruptcy is right for your situation.  Outside Utah find an attorney at the NACBA website in Utah call us for a free consultation and see when bankruptcy makes sense for you. #utahbkguy