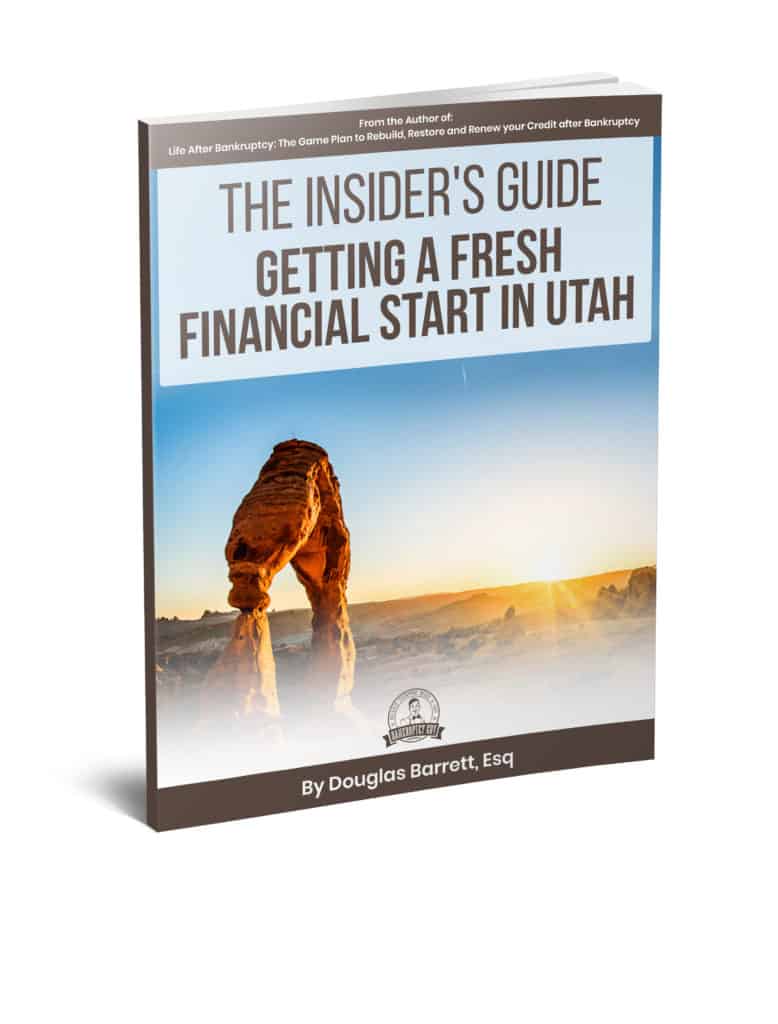 Press Release
Orem (UT) for immediate release:
Today the Fourth Edition of the book on filing bankruptcy in Utah was published. The Insiders Guide: Getting a Fresh Financial Start in Utah has been in print since 2005. The book, by Utah Bankruptcy lawyer Douglas Barrett, has help thousands determine if filing bankruptcy was their best option over the years.
Mr. Barrett stated, "Many bankruptcy attorneys I know get caught up in the day-to-day routine of filing cases and fail to remember that most of the people walking into their office have never even spoken to an attorney before. That is why I wrote this guide – I want to help you get a feel for the bankruptcy process and know exactly what to expect when you talk to a bankruptcy attorney from day one. Since 2001 I have helped 1000's of people file for bankruptcy and as I continue to help 1000's more my goal is to always keep the client experience in mind.
I start with the notion that you never intended on getting into a financial mess and do not want to be in this situation ever again. I also know that you have probably tried many different options to avoid bankruptcy. As you read through my book I hope you will discover that bankruptcy is the first step to rebuild your financial future. I also hope you understand that even though the thought of bankruptcy can be tough emotionally it is something that you can easily bounce back from. Finally, I hope that this book will help you gain a better prospective with your future financial goals – as bankruptcy is the first step to fresh financial start."
The fourth edition adds to the completeness of the book with updated information on the contact information for the Utah Chapter 7 panel trustees, the Utah Chapter 12 Trustee and the Utah Chapter 13 Trustee. The book is current available for a free download on The Utah Bankruptcy Guy website. Printed copies are also available for purchase at the Law Office of Douglas Barrett, LLC located in Orem Utah.
Douglas "The Bankruptcy Guy" Barrett has been practicing bankruptcy law since 2000. Barrett received his undergraduate degree from Brigham Young University at Provo in 1993 and graduated from Whittier Law School in 2000, where he was a distinguished member of the Moot Court Honors Board. During law school he interned for the Hon. James N. Barr, U.S. Bankruptcy Court Judge for the Central District of California. After graduation he clerked for the Hon. Lee M. Jackwig, Chief Judge U.S. Bankruptcy Court for the Southern District of Iowa.
Mr. Barrett opened his own consumer bankruptcy practice in Orem in 2002. In 2017, he moved his practice into its current location at 1215 S Main Street in Orem. He is well known for his aggressive representation of consumer debtors. During the past several years he has helped hundreds of people in bad situations obtain protection in the U.S. Bankruptcy courts. He is a member of the National Association of Consumer Bankruptcy Attorneys and has been a frequent speaker on consumer bankruptcy law throughout the state.
###