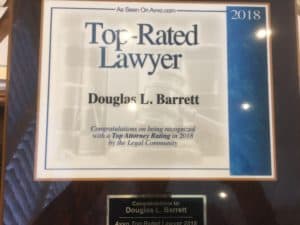 PRESS RELEASE
For Immediate Release
Orem, UT – Attorney Douglas L. Barrett of Orem has been named once again a Top Rated Lawyer by the website AVVO. AVVO is he premier online legal marketplace that connects consumers and lawyers. Douglas "The Bankruptcy Guy" Barrett has been practicing bankruptcy law since 2000.
Barrett received his undergraduate degree from Brigham Young University at Provo in 1993 and graduated from Whittier Law School in 2000, where he was a distinguished member of the Moot Court Honors Board. During law school he interned for the Hon. James N. Barr, U.S. Bankruptcy Court Judge for the Central District of California. After graduation he clerked for the Hon. Lee M. Jackwig, Chief Judge U.S. Bankruptcy Court for the Southern District of Iowa.
Mr. Barrett opened his own consumer bankruptcy practice in Orem in 2002. In 2017, he moved his practice into its current location at 1215 S Main Street in Orem. He is well known for his aggressive representation of consumer debtors. During the past several years he has helped hundreds of people in bad situations obtain protection in the U.S. Bankruptcy courts. He is a member of the National Association of Consumer Bankruptcy Attorneys and has been a frequent speaker on consumer bankruptcy law throughout the state.
April 22, 2018
###