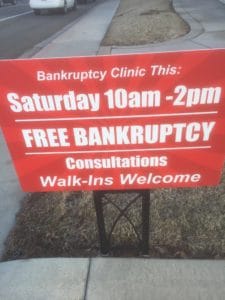 Have you ever wondered if bankruptcy was a solution to your problems?  We are participating in the Saturday Bankruptcy Clinic this coming Saturday.  This Saturday bankruptcy consultation will be FREE at our Orem location: 1215 S Main Street, Orem, Utah.  We know that it is sometimes hard to take off from work and so we offer the Saturday bankruptcy consultation for those of you that may not be able to visit with us during our regular business hours.
As I often write in this blog, bankruptcy is complex and full of pitfalls to the uninformed so get informed!  We will be taking clients on a first come first serve basis this Saturday February 10 from 10am to 2pm and helping you decide if bankruptcy is a good or bad option.  We suggest that you bring with you your last paystub, a good idea of the amount of debt you owe, and any court documents that you may have recently received.  If you want to met with Douglas "The Bankruptcy Guy" Barrett make sure you ask for him at the front desk so you can be assigned to meet directly with him.
We should be able to help you make an informed decision on filing for bankruptcy during this consultation.  Whether you are looking into a Chapter 7 bankruptcy or a Chapter 13 bankruptcy this is a great way to learn your options.  These free clinics usually fill up fast so we recommend that you arrive early since we do not take appointments and all walk ins are welcome.  If this week is anything like our past clinics the later in the day you arrive the longer you may need to wait to visit with the attorney.  If you are unable to make it this Saturday call us at 801-221-9911 and we will be happy to set up a time during our regular hours during the work week to meet with you and discuss your situation.