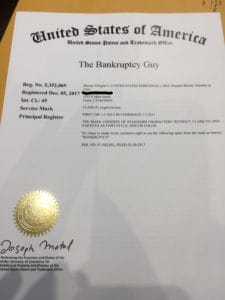 In today's mail came the official Trademark for "The Bankruptcy Guy".  For years my friends have called me "the bankruptcy guy" and last year I started looking into the process of obtaining the official trademark to the name.  In the end it took nearly a year and hours of legal work to obtain the mark.  It was an interesting process and I gained a great insight into what my patent attorney friends do all day – actually it made me glad I don't do that all day long.  Just like bankruptcy there a number of legal hoops you need to jump through to get a trademark – so I guess I have that skill.
I find it a great complement when someone calls me "The bankruptcy guy".  To me is shows that they have confidence in my skills and ability.  Most of the time my client are referred to my office by former clients – which in and of its self is the highest compliment an attorney can receive.  So now I think its great when someone says "…Hey use my bankruptcy guy he was the best".
So if you or your friends in Utah need some bankruptcy help tell them to google the bankruptcy guy and come in and visit with me – more than likely I can help them through the issues they are dealing with or at the very least point them in the right direction to get the help they need.  As you may have read in prior posts we have recently moved to our new Orem office located in the heart of Utah County.  We are trying to be the bankruptcy attorney near by.  My goal for more than 17 years has been to provide the best possible representation to my clients – because everyone needs a guy!